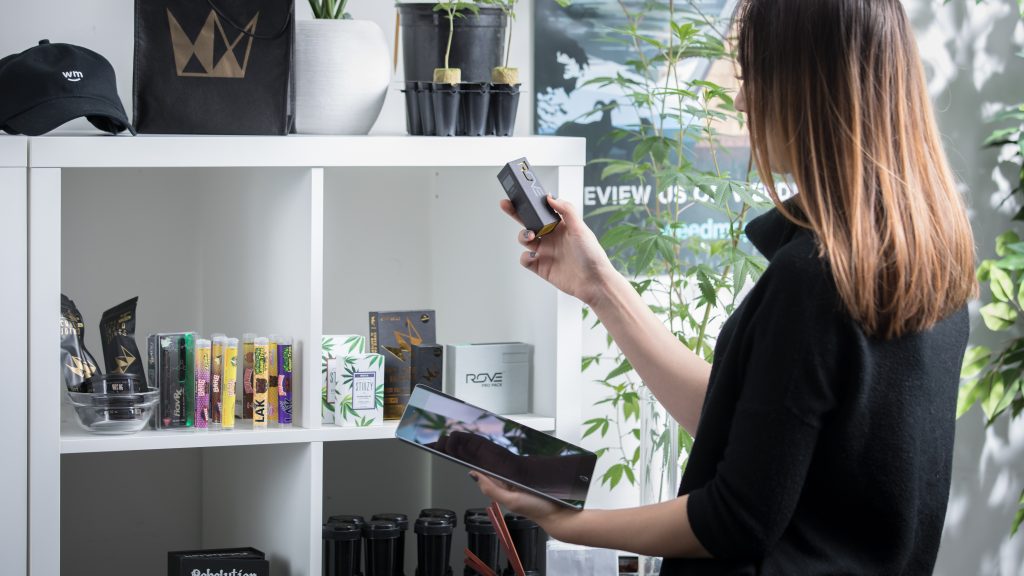 Marijuana access hit roadblocks in three states in August 2019. In Nevada, a Clark County judge found that the state's dispensary licensing process was faulty. In Utah, lawmakers are backtracking on a plan to have state-run medical marijuana distribution after county attorneys said government workers could face prosecution under federal law. And the California Supreme Court ruled that local governments must subject marijuana businesses to environmental review.
Here is the cannabis news from across the United States that you may have missed in recent days. 
Nevada Judge's Ruling Puts Dispensary Licensing on Hold
A Nevada judge has frozen the permit process for some new state retail cannabis stores siding with companies that lost bids to open recreational pot shops.
Clark County District Court Judge Elizabeth Gonzalez issued an injunction Aug. 23, 2019,  halting several dozen new licenses where questions were raised about the owners compliance with the licensing requirements.
Losing bidders argued the process was so riddled with mistakes and bias that Gonzalez should void 61 licenses that were approved in December 2019 from among 462 applications.
Attorneys for Nevada and some companies that won retail dispensary licenses say the process wasn't perfect, but tax officials are fairly enforcing Question 2 an initiative voters approved in November 2016 that legalized adult-use marijuana.
All sides expect the judge's ruling will be appealed to the Nevada Supreme Court.
Attorneys Advise Utah to Not Run Marijuana Distribution 
Utah legislators were moving Aug. 22, 2019,  to scrap a planned state-run medical marijuana dispensary system after county attorneys said it would put public employees at risk of being prosecuted under federal drug laws.
Under the revised plan being written by Republican Senate Majority Leader Evan Vickers, medical cannabis would instead be distributed through as many as 12 private dispensaries.
The changes to Utah's medical marijuana law would have to be approved in a special session.
Some cannabis advocates applauded the proposed change, saying it would increase patient access to cannabis. Others, however, worried that 12 dispensaries won't be enough to meet demand when the program is rolled out by 2020 for people with certain medical conditions who get a patient card from their medical provider.
The law now calls for seven private dispensaries with a state-run "central fill pharmacy" to distribute the remainder of medical marijuana orders through Utah's 13 local health departments.
Some county attorneys argued that using health departments as pickup points could make the employees de facto drug dealers.
Marijuana is banned at the federal level, though a congressional amendment blocks the Justice Department from interfering with states' medical marijuana programs.
Utah voters approved Proposition 2 in November 2016 to allow medical marijuana in the state,
— Morgan Smith, The Associated Press
South Dakota Lawmakers Listen to Neighboring States about Hemp Cultivation
South Dakota lawmakers heard from officials in neighboring North Dakota and Montana about how the legalization of industrial hemp has affected their states, despite Republican Gov. Kristi Noem's opposition to allowing the crop.
During the meeting Aug. 19, 2019, in Pierre, the capital, the North Dakota and Montana officials said they didn't face roadblocks to legalizing the crop in their states, but Noem sent members of her administration to the meeting to oppose legalization in South Dakota.
The administration's common theme was that too many questions remain, Sioux Falls CBS affiliate KELO-TV reported. Public Safety Secretary Craig Price said he thinks legalizing industrial hemp would invite new attempts to legalize marijuana.
Democratic Minority Whip Oren Lesmeister, who has been meeting with officials from states where industrial hemp is grown and processed, disagreed.
"We are seeing that these states have strict rules in place, but we also see that the fear industrial hemp is a backway to produce the drug, marijuana, is unwarranted," Lesmeister, a Parade rancher, said in a statement. "We have also learned farmers can make money from this."
The Legislature passed a bill to legalize industrial hemp last session, but Noem vetoed it. House Majority Leader Lee Qualm, a Republican who chairs the Industrial Hemp Summer Study, said the committee is working to come up with legislation that would make everyone comfortable.
Qualm said in a statement that the hardy crop can be grown in nearly every region of the state.
"Industrial hemp is the first new crop that has come along in decades," Qualm said.
The 2018 Farm Bill that legalized hemp federally established a 0.3% limit for THC. Farmers must notify the U.S. Department of Agriculture (USDA) of their plans to grow hemp, and state lawmakers must pass laws permitting hemp cultivation. Weedmaps Learn explains differences between hemp and marijuana, as both are cannabis plants.
California Supreme Court Rules Marijuana Shops Require Environmental Review
The California Supreme Court has ruled San Diego failed to adequately analyze the potential environmental impacts of its marijuana dispensary law.
The Union-Tribune reported that the decision Aug. 19, 2019, is expected to limit the discretion of local governments across the state.
San Diego declared that the 2014 marijuana law didn't require any environmental analysis. But the court ruled the city should have studied whether allowing dispensaries might result in the construction of new buildings or change citywide vehicle traffic patterns.
The ruling says that when adopting new laws or zoning changes, local governments must analyze reasonably foreseeable changes those rules would make to the environment — even if the changes would be indirect.
The city attorney's office declined to comment on the decision, which overturns a 2016 appeals court ruling that favored the city.