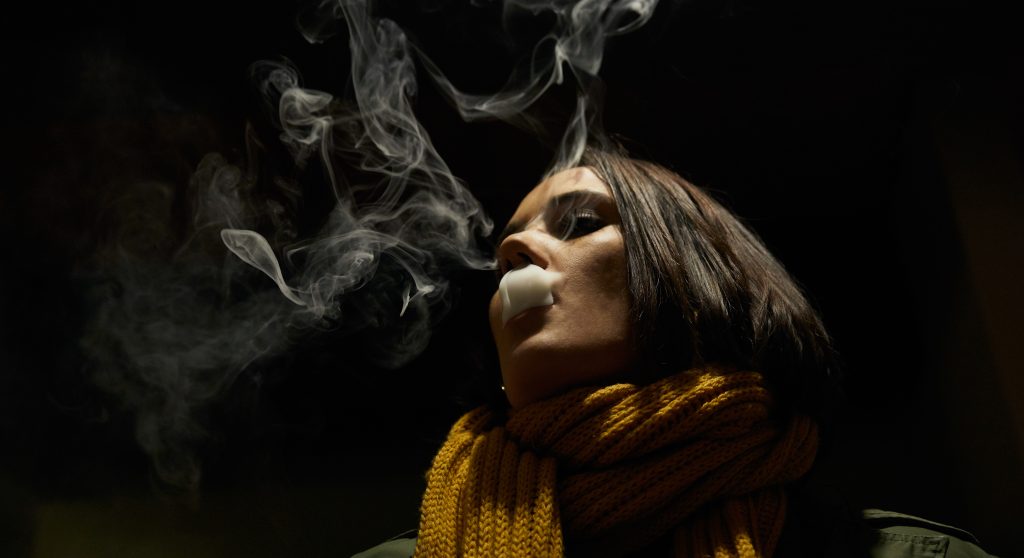 April 20 is coming up fast, which for every stoner means putting together a solid 4/20 arsenal of weed products. You'll need your stoner survival essentials, as well as some fun, fresh items that will help you embrace the spirit of the day. From affordable stoner essentials to holiday treats and knickknacks, here's your ultimate product guide for a stellar 4/20 this year.  
Merch from The Pottery
Also for your weed apparel needs, Los Angeles dispensary The Pottery boasts a sleek designer collection of wearable merch to update your look this 4/20. Whether you're in need of a new hoodie, black-and-white tee, or contemporary tote, The Pottery's merch line is undeniably lit.  
Availability: Nationwide in U.S.
Price: $28-$65
Boombox Rig by Ski Mask
Need a new dab rig for your 4/20 wax game this year? Presidential Smoke Shop, based in Las Vegas, is offering this dank Boombox rig by Ski Mask Glass, on sale for $525, down from $900. For the dabber who wants their 4/20 to feel like the coolest party in town, this rig's sleek, retro street-art design will do the trick.  
Availability: Nationwide in U.S.
Price: $525
Tiny Arcade
What could be a better 4/20 pastime than an arcade machine that fits in the palm of your hand? "Tetris," "Space Invaders," and "Q*bert" are among the classics that the Tiny Arcade company offers handheld games that look like miniature versions of the ones you used to play at your local arcade. Reviews from Tiny Arcade's Amazon store note these games are meticulous in their recreation of the original games, with ample screen brightness and decent screen resolution that'll keep you and your stoner buddies delightfully occupied while nursing a 4/20 high.
Availability: Nationwide in U.S.
Price: $12-$17
Daily High Club 4/20 Box
Even for the most seasoned of stoners, preparing for 4/20 can be daunting. That's why it's good to have a couple one-stop-shops on hand. This April, Daily High Club is releasing a one-of-a-kind 4/20-themed box to serve a flood of holiday needs. The box includes:
A 4:20 clock recycler

4/20 Odor Eliminator Spray

Raw tin ashtray

Raw Wiz rolling tips

Raw classic 1 1/4 wide papers

Clipper lighter
Availability: Nationwide in U.S.
Price: $49.99
Weedmaps Gear
We like to keep the Weedmaps community well equipped with everything they need to have the best 4/20 ever. That includes a robust selection of dope gear. Keep your head warm with a Weedmaps smile beanie or hemp dad cap. Rep your 420-friendliness in style with a classic Weedmaps tee or a longsleeve flower crop top. There's never been a better time to expand your collection of weed-themed attire, and we're ready to assist you.
Availability: Nationwide in U.S.
Price: $25-$65
Noah Harmon YCPTJ Tote
Yeah, cool, pass the joint. For $30, you can be sure that your fellow tokers know you're serious about your turn in the rotation with this hip blue-jean tote by Noah Harmon.
Availability: Nationwide in U.S.
Price: $30
'Higher Etiquette'
Emily Post's "Etiquette" is "the definitive source on etiquette for generations of Americans." Now you can get the definitive source on weed etiquette from her great-granddaughter Lizzie Post. "Higher Etiquette" covers all the essentials in social issues surrounding weed; including how to gift weed, how to act at a dispensary, how to handle canoeing joints, and much more. Lizzie Post's "High Etiquette" will make a great gift or conversation starter at this year's 4/20 festivities.
Availability: Nationwide in U.S.
Price: $18.99
'Weed — Everything You Want To Know But Are Always Too Stoned to Ask'
Speaking of weed books, we've got the perfect 2019 addition to your stoner's library. "Weed — Everything You Want to Know But Are Always Too Stoned to Ask" by Michelle Lhooq is a fresh, fun, boldly illustrated new guide to the modern age of cannabis, including tips on smoking, growing, making edibles, as well as interviews with weed scene celebrities and cannabis innovators.
Availability: Nationwide in U.S.
Price: $19.95
Vessel Vape Batteries
This 4/20 may be a good time to up your vape battery game with the smooth-as-silk delivery of the new battery from Vessel. These sleek, easy-to-use batteries provide an exceptionally smooth vapor that can be yours for 30 percent off of the original $100 price when you use the promo code WM420 at checkout. Up the style and quality of your vape for smoother sailing in April.
Availability: Nationwide in U.S.
Price: $100 (30% off with promo code)
Re-up on Butane
If you're using a dab rig this 4/20, nothing will be worse than running out of butane prematurely.  Amazon is chock full of butane options at more than affordable prices. Re-up on butane now and you'll thank yourself come April 20.
Availability: Nationwide in U.S.
Store My Stash Book Box
Remember those decorative old-looking books you'd see on your buddy's mom's coffee table? Well now they can store your weed. With several intriguing cover designs to choose from, the Store My Stash Book Box is the perfect way to class up your weed storage game this 4/20.  
Availability: Nationwide in U.S.
Price: $34.95-$69.95
Wandering Bud J Holder
Simple, crafty, elegant, and a joy to smoke with, these ceramic triangular j holders from Etsy shop Wandering Bud will make a great addition to your personal smoke stash. Bring one of these to your next 4/20 party and you'll be the classiest, artsiest stoner in the room.  
Availability: Nationwide in U.S.
Price: $18
Cheech & Chong's 'Up in Smoke 40th Anniversary' Blu-Ray
Round out your 4/20 product arsenal with a stoner comedy classic. Cheech & Chong's landmark ode to getting high and being funny AF commemorated its 40th anniversary last year with a new Blu-ray release, now only $9.99. It's also available to stream in April for Amazon Prime members. Whether you stream or add the Blu-ray to your stoner media collection, "Up in Smoke" remains an excellent high-watch, especially at 4/20.   
Availability: Nationwide in U.S.
Price: $9.99